Twenny is the romantic pairing of Kenny McCormick and Tweek Tweak.
See also: Fanfiction involving Twenny
The origin of this pairing is unknown and is considered a crack pairing, since the two have never had much contact.
In the episode "Fourth Grade", they were shown holding hands in Cartman's flashback.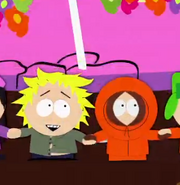 In the episode "Gnomes", Kenny slept over at Tweek's house along with all the other boys.
The pairing also may have been suggested as when Tweek took Kenny's place when he died, leading to the idea that they should interact more often.
Popularity
Edit
There are very few fanfictions that include this pairing.
External Links
Edit
Ad blocker interference detected!
Wikia is a free-to-use site that makes money from advertising. We have a modified experience for viewers using ad blockers

Wikia is not accessible if you've made further modifications. Remove the custom ad blocker rule(s) and the page will load as expected.