Linda Stotch
Character Information
Gender
Female
Hair
Blonde
Age
Early 30's
Occupation
Engineer
Religion
Roman Catholic
Appearances
Debut Episode/Fic
"The Wacky Molestation Adventure"
Linda Stotch is a character in the animated series South Park. She is Butters' mother and Stephen Stotch's wife.
Please visit her article on the South Park Archives for more information.
Appearance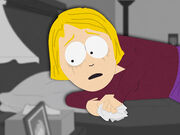 Linda wears a maroon sweater, a calf-length purple skirt and black shoes. She has shoulder-length blonde hair, and a long, slim face. Her breasts are lopsided, with her right breast being noticeably larger than her left.
Personality
Linda is shown to be a quiet, submissive woman. She is often seen reading or cleaning the house. She tends to be more sympathetic and tender towards her son but goes along with her husband's parenting methods because she feels he knows more about it than she does. Linda is shown to be mentally unstable, have a low self-esteem, and slightly sadistic.
External links
Ad blocker interference detected!
Wikia is a free-to-use site that makes money from advertising. We have a modified experience for viewers using ad blockers

Wikia is not accessible if you've made further modifications. Remove the custom ad blocker rule(s) and the page will load as expected.