Big Gay Al
Character Information
Gender
Male
Hair
Brown
Age
Late 30s
Occupation
Scouts leader/Gay animal Sanctuary runner
Religion
Roman Catholic
Appearances
Debut Episode/Fic
"Big Gay Al's Big Gay Boat Ride"
Big Gay Al is a character in South Park, who is a stereotypical homosexual man, known for his flamboyant and positive demeanor. For example, he almost always responds to the greeting "How are you?" with an upbeat "I'm super! Thanks for asking!"
Please visit his article on the South Park Archives for more information.
Appearance
Edit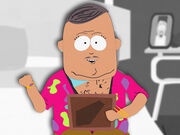 He wears a pink Hawaiian shirt, open at the top, a blue neckerchief, and brown corduroy trousers. His skin is heavily tanned. He has brown hair, eyelashes, a mustache, and very red lips (he may be wearing lipstick).
Marriage to Mr. Slave
Edit
It was revealed in "Follow That Egg!" that Big Gay Al had started up a relationship with Mr. Slave, the ex-boyfriend/sex slave of Mr. Garrison. Mr. Slave had previously broken up when Mr. Garrison got a sex change.
External links
Edit
Ad blocker interference detected!
Wikia is a free-to-use site that makes money from advertising. We have a modified experience for viewers using ad blockers

Wikia is not accessible if you've made further modifications. Remove the custom ad blocker rule(s) and the page will load as expected.